'WAKING The Dead' detectives have arrested a 32-year-old man over the murder of vulnerable David Clarke in north Belfast 14 years ago.
The brutal murder of Mr Clarke was re-opened last week by detectives after they received "new information".
The 26-year-old, who had learning difficulties, was beaten to death in his flat at Forthriver Road on 6 June 2001.
Police say the 32-year-old suspect was arrested today in the Shankill area.
He is currently being quizzed at the PACE suite at Musgrave PSNI station.
Mr Clarke's body body was found late in the evening of June 6, 2001 by friends who forced their way into the first floor flat after he hadn't been seen all day.
The officer leading the renewed investigation, Detective Chief Inspector Alan Dickson from the PSNI's Major Investigation Team said inquiries had been re-opened following the receipt of new information.
DCI Dickson said: "Everyone in the local community knew David.
"He knocked about more often with teenagers than people his own age because he felt more comfortable with them because of his learning difficulties.
"He was inoffensive and vulnerable.
"Sometime between midnight and 4am on 6 June, entry was forced into the flat and David was attacked.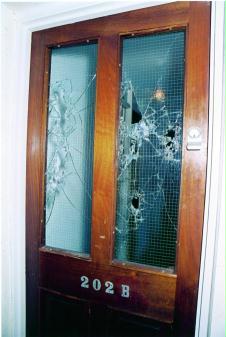 "This was an assault which became increasingly frenzied and resulted in David's death.
"The individuals in the flat smashed its fixtures and fittings and David's ornaments.
"We believe David had retreated into his bedroom for safety where he was savagely beaten and died.
"I have been a police officer for 28 years and a murder detective for 13 of those years. Apart from the wounds sustained by gunshot victims, David's injuries are the worst I have seen.
"This was a frenzied and savage attack."
In the weeks leading up to his murder, David had been bullied. He did not report the incidents to police but had confided in friends.
DCI Dickson said: "I believe David was bullied because he was different, nothing else.
"I believe the bullying went too far and the assault turned into a frenzy. There were a number of people present in the flat at the time of the assault, including a woman.
"The information needed to apprehend David's killer, or killers, lies within the local community at Forthriver and Glencairn.
"The community took David to its heart: people helped to pay for his funeral, his grave is tended to this day by locals and his old flat is now a community centre known locally as Clarke House.
"I am appealing to people in that community to provide us with the information we need to bring the perpetrators to court.
"Even though there were a number of arrests in the original investigation, there is a sense that this is a forgotten murder.
"It has certainly not been forgotten by police or, probably, by those involved. I would ask anyone with information to do the right thing and come forward with anything they know.
"This was not a paramilitary murder. People should not be concerned about coming forward with information for fear of reprisal.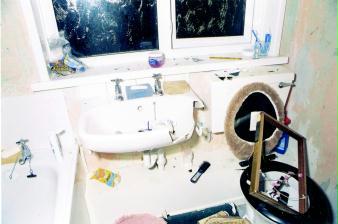 "This was an incident in which a vulnerable young man who was no threat to anyone was savagely beaten because he was an easy target."
Anyone with information is asked to call the police non-emergency number 101 or use the independent charity Crimestoppers 0800 555 111 where information can be provided anonymously.