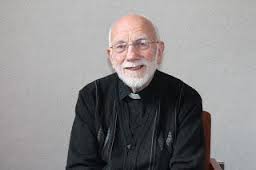 FR GERRY Reynolds, regarded as a key figure in bringing about the peace process, has died.
He passed away this morning in Belfast's Royal Victoria Hospital after a short illness.
In a statement, the Redemptorist community at Clonard said: "He will be greatly missed by his Redemptorist confreres and colleagues, his family, friends, and the many people whose lives he touched through his ecumenical, peace and reconciliation ministries."
West Belfast SDLP MLA Alex Attwood has paid tribute to Fr Reynolds.
He said: "On behalf of the SDLP and my own family I wish to express our deepest sympathy to the family of father Gerry Reynolds and to his friends in the Clonard community.
"Gerry Reynolds was a holy man who touched the lives of countless numbers.
"He brought people together. Across our community, our churches and our conflict he worked quietly and relentlessly forging new relationships so that old differences could be resolved.
"He was forever working to make peace. His special work with Fr Alec Reid was one example of this. His life was defined by such work, seeking out the opportunity for good to prevail.
"He was devoted to the monastery, the people of Clonard and all of West Belfast. He brought Christian witness into private lives and public spaces.
"My family have also lost a great friend. Gerry was at our wedding, baptised our daughter Nora and concelebrated my mother's funeral mass in May.
"At birth, during life and at death Fr Gerry Reynolds was part of the lives of many, many people. He was deeply loved."