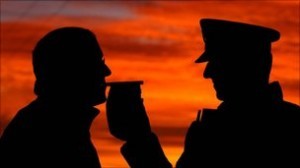 THERE is no safe limit, so never drink and drive' is the key message from police as the 2015/16 winter drink drive operation began early today.
Assistant Chief Constable Alan Todd explained, "During last year's winter drink drive operation, we detected 270 people who took the risk of killing or injuring themselves, their family, friends or other innocent road users by deciding to drive after drinking.
"Considering that in some instances, we stopped drivers who were so drunk, they could barely stand when they got out of their vehicle, just beggars belief.
"At the other end of the spectrum, we detected some drivers who had gone out socialising and not intended to drive, but their circumstances changed and they decided to take a risk. A risk which resulted in a driving ban," he said.
In addition to running operations to catch drink drivers throughout the day and night, in the weeks leading up to Christmas and into the New Year, Police will again coordinate road safety operations in border counties with colleagues from An Garda Síochána Traffic Corp.
Assistant Chief Constable Todd continued: "Nobody should find themselves asking the question, I wonder if I'm ok to drive? Or trying to calculate if they are under the drink drive limit, be it after one drink, or the morning after a night out. Do not take the risk. The consequences, as police officers and our emergency service colleagues witness first hand, can be catastrophic.
"Any driver or motorcyclist who police stop, whether for speeding, using a mobile phone, or committing any moving traffic offence can expect to be breathalysed. So too can anyone involved in a collision or who we suspect may have consumed alcohol or taken drugs.
"I want all motorists to think about the consequences to yourself and your family of being involved in a serious collision. How would you feel if your actions resulted in you or one of your family being paralysed? How would you feel if some innocent person was killed? Consider too the impact of losing your driving license. Would you also lose your job? Your home?
"To date this year 64 people have lost their lives in crashes on our roads and many more have been seriously injured, so I am also appealing for all road users and pedestrians to exercise caution and put road safety first.
"With longer hours of darkness and winter weather, road users need to make extra effort to look out for pedestrians and cyclists particularly along rural roads. Pedestrians and cyclists should wear bright clothing, reflective jackets or armbands where possible to ensure they can be seen.
"Our aim with this operation is to keep people safe. People need to put as much effort into planning how to get home safely, as they do planning their night out. I do not want police officers knocking on doors at any time of the year, but especially over Christmas and the New Year, to tell families that a loved one has been killed on the roads."
Assistant Chief Constable added: "If everyone slowed down, did not drive after drinking or taking drugs, wore a seatbelt and drove with greater care and attention then together we can reduce this preventable carnage on our roads."
During the 2014-2015 winter drink drive operation, (27 Nov 2014 – 2 Jan 2015).
Total detections 270
Youngest person detected,17 years of age
Oldest person detected, 71 years of age
226 Males, 43Females detected (1 unrecorded on the initial data capture stage)
Highest reading 171mg (limit is 35 micrograms of alcohol in 100 millilitres ofbreath).
4,950 Preliminary Breath Tests performed (4,649 28 Nov 2013 – 2 Jan2014).