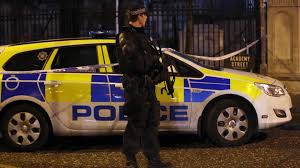 DETECTIVES are on the trail of a suspicious male who was pretending to be a policeman investigating a house burglary.
Yesterday afternoon he called at the home of an elderly person.
He claimed that the Abercorn Drive property in Ballyclare had been burgled while the resident had been out and that police had arrested two people.
He also asked the female resident a number of questions about what money and jewellery she kept in the house.
The man left when he was told by the resident that she did not keep money or jewellery in the property.
A PSNI spokesman said: "Police are not investigating any previous burglary at the address.
"Based on the information gathered to date, we believe that this male's sole aim was to ascertain what valuables may have been kept at the property by falsely suggesting he was in some way linked to the police.
"The man is described as between 50 and 60 years old, tall and well-built wearing a coat, cap and scarf.
"We are appealing for anyone with information or anyone who may have seen this male in the area to get in touch. Detectives can be contacted by calling the non-emergency number 101.
"We would also like to encourage local householders to remain vigilant when unknown people call to the home, irrespective of who they claim to represent or what they claim their purpose is in being there.
"Always ask for identification and if there is any doubt at all, do not let them into your home."