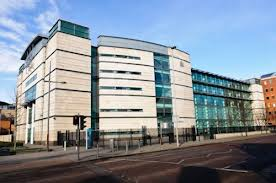 A MAN has been remanded in custody after being refused bail on a charge of raping a woman in Belfast city centre.
Police claimed at Belfast Magistrates Court today that Pondai Bamu, 37, attacked the woman in an alley at Rosemary Street.
She was waiting for a friend to collect her in the early hours of Thursday, September 24 this year..
The defendant, from Zimbabwee, is charged with rape and sexual assault.
He was refused bail amid fears he could flee or potentially re-offend and due to the "predatory" nature of the attack.
Bamu, of Marlborough Avenue in the city, spoke only to confirm he understood the charges.