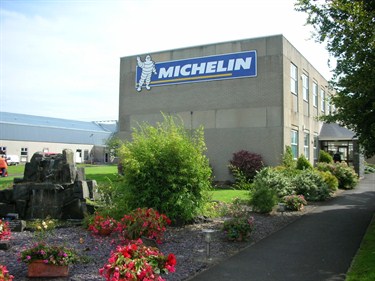 THERE is more grim news on the job front with the announcement today that the Michelin tyre factory in Ballymena is to close in 2018 with the loss of 860 jobs.
The firm said the decision to shut Ballymena, which first opened in 1969, was made due to the "significant downturn" in demand for truck tyres in Europe over the last eight years.
In its statement, Michelin said today: "There is a strong need to reduce overcapacity and concentrate Michelin truck tyre production in larger, more competitive sites.
"Despite great efforts and progress being made in previous years, other European plants are still more competitive than Ballymena."
Workers were called to a lunchtime meeting at the factory today and told of the bombshell news to run down the firm until it was finally shut in three years time.
DUP North Antrim MP Ian Paisley said the jobs blows "apocalyptic in terms of employment for my constituency".
He added that the news would take "millions of pounds of salaries out of the local economy.
"There had been some speculation, locally, for a while that we may see an announcement of further consolidation at the site, but no one expected such a drastic move right in the throat of Christmas," said Mr Paisley.
Michelin produces about one million bus and truck tyres per year, with more than 70 per cent being exported, mostly to North America.
Union chiefs said the announcement was "devastating news".
Unite the union's Davy Thompson said: "These were highly-paid, secure jobs reflecting the progressive employment practices of Michelin and their loss will devastate the retail and services economy in this region."
He added that the there would be a knock-on effect to the job losses.
"There are around 500 contractors and many more in the wider economy who now face the threat of redundancy as a result of this announcement".
It is the second major jobs blow to Ballymena in the past 12 months.
Cigarette maker JTI Gallaher announced it was ceasing production at is plant by 2017 with the loss of 800 jobs.