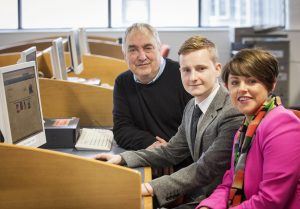 FIRSTSOURCE Solutions, one of Northern Ireland's largest private sector employers, has announced a new partnership with Ulster University to offer employees the opportunity to study for a degree.
The BSc (Hons) in Customer Contact Management is the first of its kind in the world in which a leading Business Process Outsourcing (BPO) company has entered into an academic partnership.
The degree will be delivered through a combination of an online curriculum provided by Ulster University Business School, together with classroom and internal training structures deployed by Firstsource Solutions and up to 380 employees worldwide are likely to enroll for the degree in its first year.
The course will be available to frontline management, including team leaders and mid-level managers, enabling them to become professionally certified in customer contact management.
Gavin Snell, President – Customer Management, Firstsource Solutions believes this partnership recognises the quality of Firstsource Solutions' training and its commitment to investment in employee competence:
"Firstsource Solutions already provides gold standard training for our employees through its Firstsource Academy. We're delighted that that the quality of our training has been endorsed by one of the UKs leading business schools through this new degree partnership.
"The customer contact management industry is now a vital engine of jobs and skills in the UK, especially among young people. It is therefore right that this sector gets the professional recognition it deserves.
"This partnership will give those employees who did not get the chance of higher education the opportunity to gain a degree, proving an attractive incentive for future employees of the company.  It will also help further professionalise the contact centre industry and raise standards for our clients and, in turn, improve services for customers."
The degree course reflects the changing nature of the customer contact management industry, which now requires a range of high level skills including data analytics, integrating IT platforms with customer management, recruitment, training, and performance management of teams under pressure, building customer loyalty and identifying opportunities to match the profile of customers with sales opportunities.
The course also reflects the growing complexity of managing customer relations across an increasingly diverse range of communication channels, from more traditional routes like telephone and email, to mobile apps, webchat and social media.
Modules on the degree will include professional skills relevant to the industry such as specialist resource planning, data analytics, using technology, and how to measure performance through quality systems, as well as covering wider business degree content such as leadership, financial planning, customer service and strategic planning.
A pool of senior leaders at Firstsource will, over time, be certified as recognised teachers under Ulster University to impart training.
Tim Moruzzi of Ulster University Business School and Programme Director, said:
"This programme is an important step on the University journey towards providing a recognised global standard for the customer contact industry.
"The recognition by Firstsource of the appropriateness of the degree to their employees and the impact this will have both inside and outside the organization can only help in raising the profile of the programme as well as giving individuals in the industry some real recognition for their efforts."
Employees at Firstsource's operational centres worldwide will be able to take the course, in addition to those employees based in the UK in Belfast, Derry, Cardiff and Middlesbrough.
The partnership between Ulster University and Firstsource was first developed through a relationship built with Invest Northern Ireland's International Business Team.