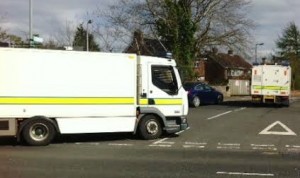 POLICE say an explosive device has been found on the outskirts of west Belfast during a security alert.
And they say the lethal device could have been found by children and caused serious injury.
The improvised explosive device (IED was discovered in a wooded area off the Colin Road in Dunmurry.
During the alert, which has now ended, police evacuated a nursery school and several homes.
The object has been taken away for forensic examination.
Det Insp Stuart Griffin said: "This device had the capability to cause serious injury.
"It was left in an open public area where anybody, including children, could have found it."
Local politicians have condemned those who left the device in the area.