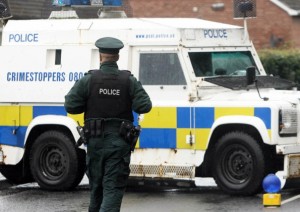 ANTI-TERROR cops have arrested a 45-year-old man in Sunderland in connection with an arms and Semtex explosives find in west Belfast.
He was detained during a joint operation by detectives from the PSNI's Terrorist Investigation Unit and the North East Counter Terrorism Unit together with officers from Northumbria Police this morning.
The suspect is due to be flown back to Northern Ireland later today for questioning at the serious crime suite in Antrim.
During a long running covert surveillance against 'violent dissident republicans', over half a kilo of Semtex-H explosives, two handguns, 200 rounds of ammunition and two detonators were found by TIU on the Ballymurphy Road on Thursday night.
A man, aged 67, and a 38-year-old woman detained in Belfast following the security operation were released yesterday pending a report to the Public Prosecution Service.
The haul is significant given that Czech-made Semtex-H explosives was part of the Provisional IRA arsenal shipped in from Libya during the 1980s.
Tests are being carried out to see if the explosives is a new batch or if it is part of a Provisional IRA stash.