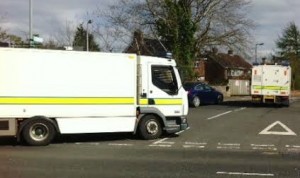 DETECTIVES have foiled a dissident republican terror offensive after seizing over half a kilo Semtex-H explosives following a covert surveillance operation in west Belfast.
Officers also seized two handguns, two detonators and over 200 rounds of ammunition during the operation early this morning following an intelligence-led swoop.
The seizure follows a security alert on the Ballymurphy Road which began late on Thursday night and continued into the early hours of Friday morning.
Several homes were evacuated while Army Technical Officers examined the items.
Residents have been allowed to return home.
A security dragnet thrown around the area remains in place.
During the covert operation, a 38-year-old woman and 67-year-old man were arrested.
They are currently being held at the serious crime suite in Antrim under Section 41 of the Terrorism Act and are being questioned.
Detective Chief Inspector Gillian Kearney, from the PSNI's Terrorist Investigation Unit, thanked residents for their patience during security alert.
"We are delighted to have removed these potentially lethal items from the streets of west Belfast,"said DCI Kearney.
"We appreciate the clearance operation which was needed to ensure everyone's safety through the night disrupted many people's lives, requiring people to leave their homes and inconveniencing road users.
"We would like to thank them for their patience and understanding during the operation.
"We will continue to work with the community to ensure we keep everyone safe."