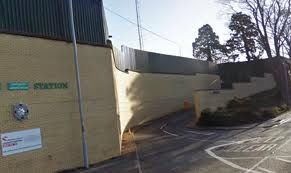 DETECTIVES investigating over a double murder bid have arrested two men and said the gun attacks "may be linked".
Two men, both aged 32, were each shot in the leg during attacks in Sandys Street and on the Armagh Road.
The suspects, aged 26 and 28, were detained on suspicion of attempted murder, kidnapping and having a gun.
They were both arrested when police stopped a car in Dungannon, Co Tyrone, earlier todayy.
Newry district commander Supt Simon Walls said: "We believe the incidents, which occurred in Sandys Street and Armagh Road in Newry, may be linked."
This morning police said a man had called at a house in Sandys Street around midnight and, after an argument, shot the 32-year-old victim in the leg.
A short time later, another man also aged 32, was taken from a house at Ardfield Avenue, Warrenpoint, by four masked men and driven to the Armagh Road, Newry, where he was then shot in leg.
Both victims were taken to Daisy Hill hospital but their injuries are not thought to be life-threatening.
The suspects have been taken to Newry and are currently being questioned at Ardmore PSNI station.