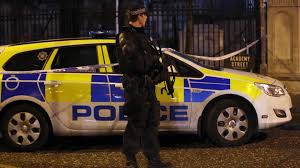 A 41-year-old man armed with a crossbow has been arrested after a stand-off with PSNI officers in Antrim.
Police were to Central Park in the town last night but details have just emerged.
The incident lasted around 40 minutes before the man was arrested.
Police seized around 11 cannabis plants inside the house and recovered two loaded crossbows.
Chief Inspector Stephen Reid said it was a dangerous situation.
"We are pleased that the arrest was made without serious injury to any person," he said.
The man was arrested on suspicion of possession of Class B drugs, threats to kill and assault.
Following hospital treatment, he was taken to the PACE suite at Antrim police station for questioning.