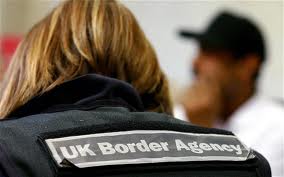 THREE male illegal immigrants have been arrested following raids by Home Office investigators across Co Down.
The men were detained in separate Chinese takeaway businesses by immigration officers acting on intelligence.
A 48-year-old Chinese man, was arrested at Phuns Welcome Chinese takeaway in Dromore's Market Square on Thursday.
Two days later, a 46-year-old Chinese man was found working in the kitchen of the Wok Chinese takeaway on High Street in Bangor at 5.30pm.
He and other staff were questioned to establish whether they had the right to live and work in the UK.
The man was subsequently arrested.
At 6.30pm the same evening, officers visited Kung Fu Chinese takeaway, also on High Street in Bangor and arrested a 31-year-old man was arrested.
All three were arrested for entering the country illegally and transferred to the immigration detention centre in Larne pending their removal from the UK.
The businesses were each served a notice warning that a financial penalty of up to £20,000 per illegal worker arrested will be imposed unless the employer can demonstrate that appropriate right to work document checks were carried out, such as seeing a passport or Home Office document.
Deputy Director Mike Golden, from the Northern Ireland Home Office Immigration Enforcement Team, said: "As these operations demonstrate, we are working hard to arrest and remove those who abuse the UK's immigration system.
"Using illegal labour is not a victimless crime. It cheats the taxpayer, undercuts businesses who ply an honest trade and deprives legitimate job seekers of employment opportunities.
"There are simple checks employers can carry out to ensure their employees have the right to work in the UK. Those who choose to ignore the rules will face the consequences.
"I would urge anyone with detailed and specific information about suspected immigration abuse to contact us."