THE Police Ombudsman has found that police were justified in using Taser during four incidents involving knives.
Dr Michael Maguire said three of which involved people self-harming, and another in which officers feared a knife would be used against them.
He found that the use of Taser had in each instance been "lawful, necessary and proportionate".
"These were potentially extremely dangerous situations for all involved," he said. "In the circumstances, the use of Taser was the least lethal option available to officers, whose actions helped to minimise the level of harm caused."
The incidents happened in north and south Belfast and Randalstown.
All discharges of police firearms, including Tasers, are referred by the Chief Constable to the Police Ombudsman for independent investigation.
On 12 April this year, Taser was used against a man in Randalstown. He had earlier called 999 to report that he had been robbed, and warned that he was going to kill the robber and stab the first police officer who called with him.
Although he did not give his name, police traced him from his phone number and officers went to his home.  They reported that he ignored orders to drop a knife and was Tasered when he instead approached them aggressively with the weapon in his hand.
A Police Ombudsman investigator listened to the 999 call which confirmed that the man had made repeated threats to kill and to stab a police officer.
Taser was also used on 8 October last year after police were alerted that a woman at the A&E department at the Mater Hospital in Belfast had a knife and was threatening to cut herself.
Before police arrived, hospital staff persuaded the woman to move to a nearby corridor away from other members of the public. Armed response officers then spent half an hour trying to convince the woman to drop the knife, before using Taser.
A nursing sister told Police Ombudsman investigators that she had been concerned that the woman would harm herself or someone else.
On 20 February last year, police were called by a charity worker who was concerned for a man's welfare. The caller also warned that the man had threatened to "knife" police when they arrived.
An Armed Response Unit went to the man's south Belfast home, but left again after finding him to be safe and well.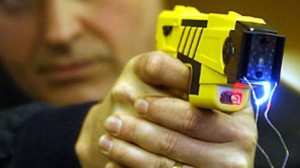 Twenty minutes later police received another call advising that the man had reported stabbing himself. An armed response unit was again sent to his house and forced entry.
Officers said they found him sitting on a sofa with a knife held against his stomach, but said he did not appear to be in distress. He refused to drop the knife, and a short time later an officer noticed blood on the knife and on the man's stomach.
Realising that the man had stabbed himself, an officer discharged Taser which allowed police to seize the knife. The man was then treated by paramedics before being taken to hospital. He later told Police Ombudsman investigators that he had no complaint to make about police actions.
Taser was used again in north Belfast on 6 June last year. Police were responding to a call that a man had a knife and was threatening to kill himself.
When they arrived at his home, the man let them in then lifted a knife from a fireplace, waved it at them and began stabbing himself in the stomach.
Officers drew their weapons and warned the man that if he did not drop the weapon he would be Tasered. They said he ignored this warning and continued to put the knife into his stomach.
An officer then discharged Taser, causing the man to fall backwards. He was caught by another officer, before being given first aid and being taken to hospital. The man later said he had tried to kill himself with a kitchen knife, and had no issues with the way the incident had been dealt with by police.
Enquiries established that the officers who had used Taser during each of the incidents were properly trained and had been authorised to use the weapon.
– See more at: https://www.policeombudsman.org/Media-Releases/2015/Taser-use-resolved-dangerous-situations-Police-Omb#sthash.oDOziqcT.dpuf