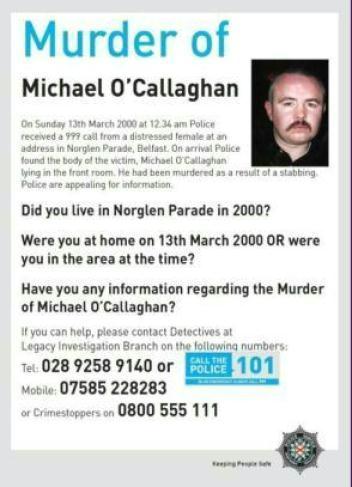 DETECTIVES from the PSNI's Legacy Investigation Branch have issued a fresh appeal for information over the brutal murder of Michael O'Callaghan in west Belfast a decade and a half ago.
Police received a report at 12:34 am on Sunday, March 13, 2000 from a "distressed female" in relation to an incident in the Norglen Parade area.
Police attended the scene and discovered the body of Michael O'Callaghan.
During follow-up enquiries and a post mortem examination it was  confirmed the 39-year-old father of five had died as a result of stab wounds.
Detective Chief Inspector Peter Montgomery, from Legacy Investigation Branch, said: "To date three people, two males and one female, have been arrested in connection with Michael's murder but no-one has been charged.
"Legacy Investigation Branch have carried out a review of the case and as a result, are now appealing for information.
"There are people out there who know what happened and we know they have information which could help us bring people before the court.
"Anyone with information should contact detectives on the non-emergency number 101, directly on 02892 589140 or via mobile on 07585 228283. Alternatively, information can be given to the Crimestoppers charity anonymously by telephoning 0800 555 111."
An inquest into the murder was held seven years ago but it left many questions unanswered for his grieving family.
Widow Phyllis O'Callaghan, speaking after the hearing, said she hoped her husband's killer or killers, would be snared in the fresh murder hunt so that she could have closure.
The inquest in 2007 but was halted twice so warrants could be issued to ensure all witnesses were present.
Belfast coroner Brian Sherrard ruled Mr O'Callaghan's "dreadful death" in March 2000 was caused by a single knife wound to his upper left chest.
But he admitted details of the killing "remain obscure" and highlighted the lack of "key witnesses".
One of those due to appear, Dessie McAteer, was not present because he is in custody for stabbing his wife in 2005 in their home – the same house in which Mr O'Callaghan was killed.
No reason for the absence of another witness was given.
Mrs O'Callaghan said she wanted the coroner to press ahead despite the no-shows.
The court was told on the night of the murder an argument erupted between Mr McAteer, his wife and Patrick McGauley at a house in Norglen Parade, west Belfast. It was over £20 Mrs McAteer had lent Mr McGauley.
Mr O'Callaghan, from Pollard Close, Belfast, had been partying with the group but was not involved in the dispute.
However, at some point during the fight he was stabbed in the chest.
After receiving a 999 call from Mrs McAteer police found Mr O'Callaghan lying in a pool of blood on the living-room floor at around 12.40am, Mr Sherrard said.
Within hours the McAteers and Mr McGauley were arrested on suspicion of murder, but were later released.
The murder weapon has not been found.
Mrs O'Callaghan, who has moved out of Belfast, later said: "I still don't know what happened to him.
"The police told me they're going to investigate again and I just hope it means someone will do something, because the first time they did nothing."