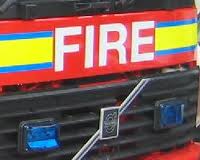 FIREFIGHTERS are at the scene of a blaze at an old factory site on the Oldpark Road in north Belfast.
Nearby residents are being advised to close all windows and doors as a precaution due to large amount of smoke coming from the fire.
Crews from Westland, Whitla and Central are involved.
NIFRS has deployed a high rised platform for aerial support in helping to stop the fire spread to nearby premises.