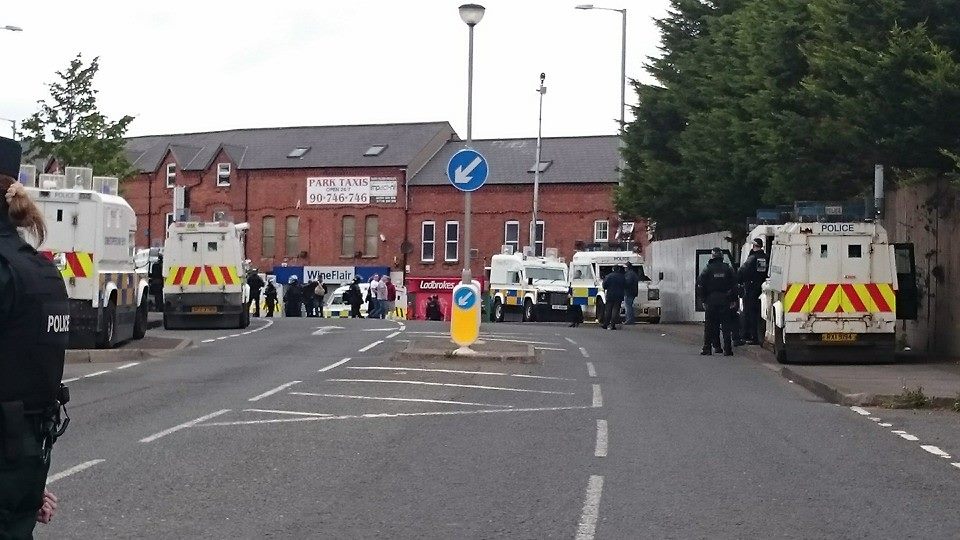 POLICE investigating rioting which erupted after a republican parade was stopped in north Belfast have charged two people in connection with the trouble.
A 36-year-old woman is accused of four counts of assault on police, riotous behaviour as well as resisting police and obstructing police.
She is expected to appear before Belfast Magistrates' Court for a first remand hearing this morning, Monday, August 10.
A 53-year-old man was also charged with common assault and disorderly behaviour.
He is expected to appear before the same Belfast court on Friday, September 4.
Police arrested four people after they came under attack with bricks, petrol bombs and other missiles in north Belfast on Sunday afternoon.
Two men aged 21 and 24 remain in police custody being quizzed over the violence.
The march was stopped by police at Oldpark Road after it breached a determination by a parades ruling body over its timing.
Organisers had asked supporters to leave peacefully when the parade ended.
But police were forced to deploy water cannon about an hour later when a crowd threw missiles at them.
On Sunday night police said they would "now review the evidence gathered and pursue all relevant lines of inquiry relating to any offences or breaches of the Parades Commission determinations".
A specialist team called from the PSNI's Public Order Evidence Team (POET) based at Strandtown police station are now sifting through hours of CCTV and video recording footage to identify suspects.
The PSNI now say that a total of nine police officers were injured during the rioting.
Assistant Chief Constable Stephen Martin defended the operation after it came for criticism from residents.
He said that police had tried to engage with the organisers of the parade in the days ahead of it, but no-one would come forward.
"It was an unlawful parade, it was our job to uphold the law, to enforce the Parades Commission determination and we did that and we only used force when we were subjected to disorder and violence," he said.
"We always seek to de-escalate the situation as quickly as possible, but while the parade, in its bulk, did disperse, there were still quite a few people about.
"There were people down the road on the loyalist side milling about, there were people milling about in the nationalist area and very quickly after the dispersal of the parade the violence ensued.
"As quickly as possible we dealt with that violence and withdrew from the area."
He said police would review footage of the disorder and others involved could expect "their doors to be knocked".
Deputy First Minister Martin McGuinness tweeted that those who organised the "so-called anti-nternment demonstration" bore "full responsibility" for the violence.
Unionist politicians had condemned the march as a "parade of shame".