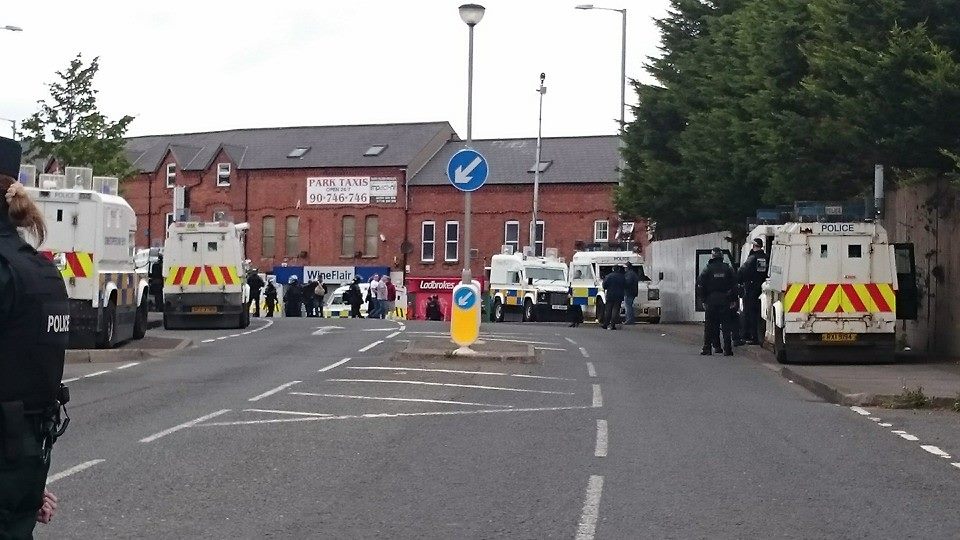 POLICE were attacked with petrol bombs, stones and bottles after they prevented a republican an anti-internment parade from entering Belfast city centre.
The march was stopped by police at Oldpark Road in the north Belfast after it breached a determination by a parades ruling body over its timing.
The Parades Commission ruled that the parade must pass Millfield by 1.30 pm but the parade didn't leave until 2 pm.
Organisers had asked supporters to leave peacefully when the parade ended.
But police were forced to deploy water cannon about an hour later when a crowd threw missiles at them, including petrol bombs.
One thug set himself on fire when he was about to throw his petrol bomb.
The march was organised by the Anti-Internment League to mark the introduction of detention without trial during the height of the Troubles.
The march was stopped by police, who said their intention in blocking the parade was to "uphold the Parades Commission's determination".
During a short rally at the police line, a speaker told participants the parade had ended and asked those taking part to leave peacefully.
But a crowd remained in the area and later threw petrol bombs and other missiles at police officers.
Deputy First Minister Martin McGuinness tweeted that those who organised the "so-called anti-nternment demonstration" bore "full responsibility" for the violence.
Unionist politicians had condemned the march as a "parade of shame".
The Anti-Internment League said "all march participants behaved peacefully and with dignity" when the parade reached the police cordon, before taking "the responsible decision" to leave the area.
Earlier in the day, Assistant Chief Constable Stephen Martin had appealed for calm before the parade.
He said that the organisers of the parade had refused to engage with police about their intentions.