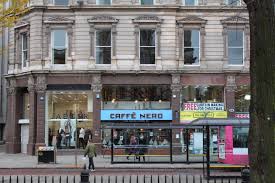 A BELFAST city centre cafe could face prosecution after rats were filmed on its counter at the dead of night.
Belfast City Council says environmental health officers have visited Caffe Nero today to ensure it was closed.
Officers also offered advice after a video was taken of rats on the counter.
It shows the rats inside a branch in Donegall Square West facing Belfast City Hall.
The shop is now closed with a note on the front door saying it was shut for "essential maintenance".
The council said its officers also examined drains in the area on Wednesday morning.
Any evidence of rat droppings could leave the owners facing prosecution under strict hygiene laws.
The footage was filmed by a couple who spotted the rats as they passed the shop at around 1.30 am on Tuesday, 7 July.
The couple, who did not want to be named, said they were on their way home from a night out in the city centre and were "shocked" by the sight of rats inside the shop.
One of the pair, a 24-year-old man from Belfast, said: "We couldn't get a taxi so we decided to walk through town to get to a taxi depot.
"It was out of the corner of my eye I noticed one rat on the floor and then eventually another one, and I watched them climb up the counter top and in behind the coffee machine. Then I started recording it.
"I couldn't believe it in such a well-known brand. I was quite shocked and stunned. That's why I started recording it, because I didn't think anyone would believe it," the man added.
In a statement, Caffè Nero said: "This incident has only just been brought to our attention.
"We are taking it extremely seriously and will be conducting a thorough investigation as a matter of urgency."
The coffee shop was closed on Wednesday morning, and a sign said the closure was due to "essential maintenance".
Belfast City Council said as well as visiting the premises, its officers also investigated "the integrity of the external drainage infrastructure in the area and were liaising with the management of the Scottish Provident Building who carried out immediate maintenance to the drainage".
It added: "There were no reports of any rodent activity in any of the food businesses.
"We understand that the video highlighted by the media was taken some weeks ago; instances of this nature are best reported to the council immediately in order for us take action in a timely manner."