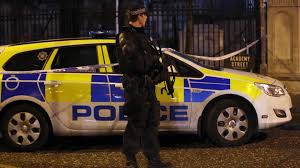 POLICE at Newtownabbey are appealing for information about a disturbance involving a large number of young people.
It happened Carnmoney Road late on Friday, July 31.
Chief Inspector Stephen Reid said that at around 10.30pm, police received reports of a crowd of dozens of young people getting involved in a disturbance.
"On going to the scene, officers saw a group of about 40 young people chasing a smaller group of about 15. On sighting police, all of the youths made off.
"At this stage we have had no complaints of offences or reports of injury, and I believe the attendance of police was very timely and prevented the situation escalating. Officers maintained a presence in Glengormley after the incident and no further issues arose.
"I am concerned that such large crowds gathered at night and were prepared to engage in rowdy behaviour, if not actual violence.
"I would urge people to think of the potential adverse effect that such behaviour could have on their own futures – quite apart from the consequences of causing or sustaining injury.
"CCTV from the area will be reviewed by police as part of a robust approach to identify any offences and associate offenders.
"I would also ask parents to ensure they know where their children are at night and to discourage them from getting involved in antisocial behaviour, disorder or violence."
Anyone who wishes to report incidents arising out of Friday night's events is asked to call police on the 101 non-emergency number.