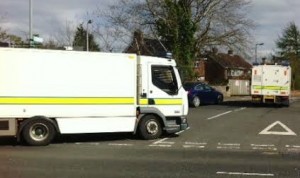 RESIDENTS have been allowed back into their homes after a security alert in north Belfast.
A lethal pipe bomb device was found in Rosapenna Street.
Police cordoned off the area while Army Technical Officers made the device safe.
The street was closed at its junction with Rosapenna Court.
Oldpark Road between Glenview Street and Hillview Road were also closed.
All roads have now been re-opened.
Local politicians have condemned those behind the pipe bomb device.
Sinn Féin MLA Gerry Kelly has condemned those responsible for a security alert in the Oldpark area of north Belfast.
Mr Kelly said: "This security alert following the discovery of a suspicious object at the junction of Rosapenna Street and Oldpark has brought nothing but disruption to the area.
"A number of businesses have had to be evacuated while the device is examined.
"Incidents like this serve no purpose whatsoever and need to stop immediately.
"Hopefully the area can get back to normal soon so that everyone can get on with their lives free from disruption."