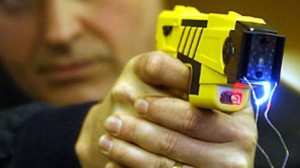 A MAN has said police did the right thing when they used Taser to prevent him killing himself in Belfast city centre in April last year.
Police received a call that the man was threatening to slit his throat with a razor blade in the Hope Street area on 19 April 2014.
Officers found him outside the Grand Opera House but were instructed not to approach and instead to wait for the arrival of armed response officers.
When they arrived they warned the man several times that if he did not drop the blade Taser would be used.
The man, however, continued to shout aggressively, at one point saying: "Yous are liars and I'm going to show you all."
Officers spoke to the man for 10-15 minutes, but he refused to drop the knife.
During this time he had moved towards the Europa Hotel, and he was near the hotel with the blade held against the right side of his throat when an officer discharged his Taser.
The officer was then able to restrain him and remove the blade, allowing paramedics to provide treatment before he was taken to hospital.
The Police Ombudsman's On-call Deputy Senior Investigator was informed within two minutes of the discharge and Police Ombudsman investigators were deployed to the scene.
CCTV footage of the incident was obtained, and police documentation reviewed.
The man who had been Tasered was interviewed and stated that he had no complaint about police actions.
He accepted that he had a razor blade held to his neck and said police had acted in the best way to stop him killing himself.
The Police Ombudsman, Dr Michael Maguire, concluded that the use of Taser during the incident had been lawful, justified, proportionate and necessary and had successfully resolved "a volatile and potentially dangerous situation."
ases/2015/Man-says-police-were-right-to-Taser-him#sthash.dRLppFo5.dpuf