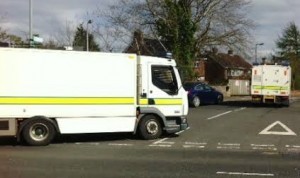 DISSIDENT republicans tried to kill  police officers by luring them into a deadly bomb trap.
The attempted bomb attack in north Armagh yesterday was "absolutely designed to kill" police, said a senior PSNI officer.
Homes were evacuated in Lurgan after officers responded to a call reporting an unexploded device.
but, as they searched for the first device, a second bomb exploded.
Police believe the initial call was designed to lure officers to the area and kill them with the second device.
Supt David Moore said the incident – which did not injure anybody – was a "clear and unequivocal murder attempt".
The security alert began following a call to a charity.
The caller said a device had been fired at a police patrol but had failed to explode.
Officers found a suspicious object and evacuated families from homes in Victoria Street.
However, while police officers were searching the area a second device went off between 4 pm and 5 pm.
Police said on Sunday that the devices they recovered "appeared to have been planted" and they did not believe any device was fired at them.
Supt Moore said: "This was a clear and unequivocal murder attempt on policemen and women who serve the community in Lurgan.
"The professional, methodical and diligent way officers responded to this incident undoubtedly saved lives."
He described those who planted the device as "heinous criminals".
Police officers were also attacked with petrol bombs and bricks during the security alert.
Sinn Fein Upper Bann MLA John O'Dowd condemned those responsible.
He said they had "brought nothing but disruption to the local community".
"Those behind this alert are not representative of the people of Lurgan and should stop these pointless actions immediately," he added.
As a result of the security alert, the rail line between Lisburn and Portadown was closed.
Families have now returned to their homes in Victoria Street following the alert.
SDLP MLA and Policing Board member Dolores Kelly described the attack as "not only an evil attempt to kill the PSNI but a total disregard for the people of Lurgan".