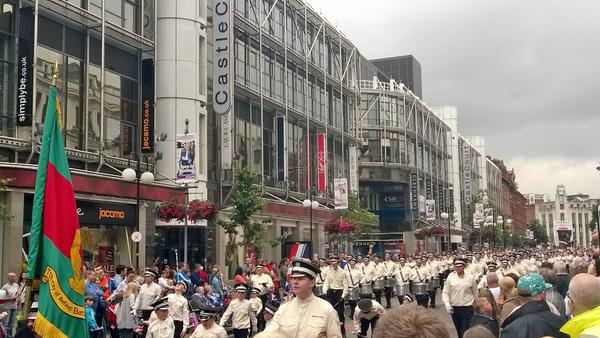 THE PSNI has deployed over 3,000 officers for duty today to keep a watch over Orange Order parades across the province.
The largest presence is in Belfast where around 1,800 police officers have been tasked with helping to keep the peace.
Nearly 1,500 officers have been detailed to public order units across the province
In Belfast, there are 39 public order units, consisting of around 950 officers, will be out in north and east Belfast.
In the background, officers have been equipped to record anyone causing trouble using hand held video recorders and still photographers.
The information will then be passed to the newly formed Public Order Evidence Team (POET) based at Strandtown PSNI station in east Belfast.
The areas causing most concern are the Ardoyne area of north Belfast, where the return parade to Ligoniel will be stopped by police, and the Lower Newtownards Road and Short Strand, where there were violent clashes last year.
Earlier, there was a large police presence in north Belfast with dozens of officers and police vehicles lining the flashpoint area near to the Ardoyne shops.
Among those present was dissident republican mouthpiece Dee Fennell who is out on bail accused of encouraging terrorism.
He has been banned from making any public speeches as part of his bail conditions or post any material online.
Nationalist residents groups staged a peaceful but noisy protest as the Ligoniel lodge marched past.
The parade was restricted to 250 people and a single drum beat, which was observed.
Later, a single drumbeat was played as the parade passed St Patrick's Church in Donegall Street.
However, one band, Finaghy True Blues from south Belfast, played a tune going past the Catholic church, in spite of a Parades Commission determination that only a single drumbeat should be played.
They admitted they had played the hymn How Great Thou Art and said they were only playing religious music outside a place of worship.
Police sources have said they remain hopeful that there will not be serious violence at any parades on Monday, but are prepared to deal with trouble if it occurs.
Assistant Chief Constable Stephen Martin said a "significant security operation" was in place in the Ardoyne and Twadell area of north Belfast.
The Orange Order has again been banned from walking along a stretch of the Crumlin Road in north Belfast that separates unionist and nationalist communities, on its return from the commemorations.
"The determination says that the band and the lodge can march down the road, but there are also determinations in place in respect of protests and we want to ensure that the protest activity can take place and that they're allowed to protest against the parade," he said.
"It's about upholding people's rights and ensuring that no violence accrues and that everybody behaves responsibly and it passes off peacefully."
ACC Martin said there were 601 parades taking place across Northern Ireland on Monday.
"Thirty-four of them are marked sensitive by the Parades Commission and the overwhelming majority, if not all in fact, will pass off without incident and very, very peacefully," he said.
If public order units are deployed, they will have what the police call "a full range of tactical options" available.
Those include the use of barriers, plastic baton rounds, water cannon and dogs.
The police will also have air support, and specialist firearms units will be available to respond to any firearms attacks.
While tactics and operational plans for dealing with violence have been drawn up and rehearsed, police sources have said there has been "significant and wide ranging engagement" in recent months to help ensure they will not be needed.
The engagement includes discussions with senior members of the Orange Order, politicians, clergy, and community representatives, including members of the UVF and UDA.
The issue causing most concern for the police is a statement by the Orange Order that its members will not act as marshals for the north Belfast parade.
The UVF and UDA have also indicated that they will not provide "community stewards".
The presence of such stewards has traditionally reduced the risk of violence, and signalled to potential trouble makers that they do not have the backing of loyalist paramilitaries.
Senior police officers have been lobbying the Orange Order to reverse its decision and agree to marshal the north Belfast parades, and to encourage others with influence within loyalist communities and the UVF and UDA to support their position.