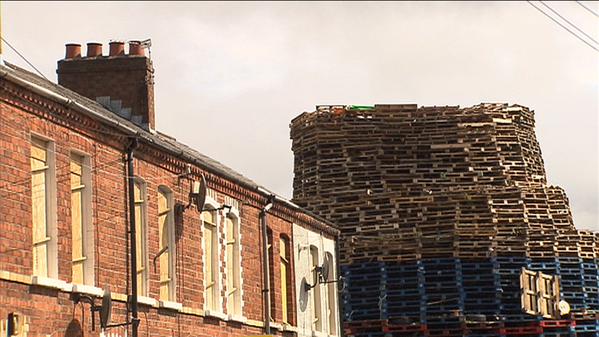 A number of families living close to a Twelfth of July bonfire in east Belfast are moving out of their homes after warnings that their lives and homes could be in danger.
The people who are building the bonfire have refused to move it elsewhere.
The bonfire at Chobham Street is situated on land owned by the Department of Regional Development.
This bonfire is located off the Newtownards Road in east Belfast 30 feet away from houses on Chobham street.
The Fire and Rescue Service says homes and lives are at risk and the council is boarding up window and doors to protect from the heat and flames.
Local politicians have met the bonfire builders to try to persuade them to move it away from the houses. But there has been no agreement.
The fire service says it has no power to remove bonfires which will be lit tomorrow to mark the night before the 12th.