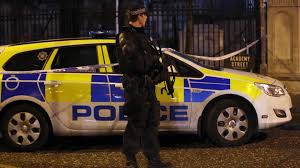 A SENIOR PSNI officer says 11 petrol bombs were seized in west Belfast.
He said it following reports to police that a mob of up to 30 youths gathered in the Bog Meadows area on Monday.
The group were all dressed in dark clothing with hoods up, carrying a crate of petrol bombs and were walking walking the St James Park area.
PSNI Inspector Alan Swann said: "The group of males were observed walking down an alleyway which runs alongside Bog Meadow.
"Eleven petrol bombs were discovered and seized in the alleyway and the youths made off.
"I would like to thank the local community for the information which led to the seizure."
"I would urge parents to make sure they know where their children are and what they are doing and to talk to them about the danger of getting caught up in the moment and the possible outcomes they could face if they are found committing any offence.
"What might seem like fooling about can often result in a criminal record which can affect travel, education and employment opportunities in the future.
"It is really important that young people understand this."