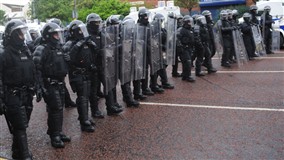 POLICE in east Belfast are appealing to parents to know where there children are after the arrest of a 13 year old boy.
He was detained on suspicion of riotous behaviour following disturbances in the Bryson Street area near the Short Strand district on Friday evening, June 19.
Temporary Superintendent Bobby Singleton said: "Officers attended the scene following reports of two rival factions in the area at around 10pm on Friday night.
"The 13 year old boy was arrested after a 7 year old boy was struck by a stone, leaving him with bruising to his arm.
"Police kept the factions apart and the area was described as quiet by 00.45am on Saturday morning. The arrested boy has since been released on bail pending further enquiries."
T/Supt Singleton added: "CCTV footage of this incident will be reviewed to determine if any further offences have been committed.
"I would ask that anyone who has any information to assist police with their enquiries to contact officers in Strandtown on 101.
"We're concerned not only about the safety of young people in the area but also the potential for them to get caught up in incidents which could have a serious impact on their futures."