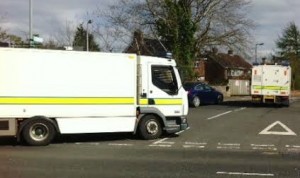 A LETHAL home-made booby trap bomb has been found under the car of a serving PSNI officer.
The under car device was found at Glenrandel in Eglinton near Derry.
Around 15 homes have been evacuated and Army Technical Officers are at the scene trying to make the device safe.
The alarm was raised around 2.45 am this morning when officers observed suspicious activity near the house.
The road is closed is currently closed while the examination continues.
The Foyle Arena on the Limavady Road is open for evacuated residents.
Supt Mark McEwan said the bomb was a "under-vehicle improvised explosive device".
He added: "This device had the potential to harm not only the officer but anyone in that residential area and those involved have shown a blatant disregard for human life.
"This is yet another example of the cowardly elements in our society who show no regard for the safety of local residents and the police officers who serve their community.
"We are obviously very thankful that this attack was thwarted and that no one was injured here this morning.
"Clearly there are people out there in today's society who are still intent on causing murder and mayhem."