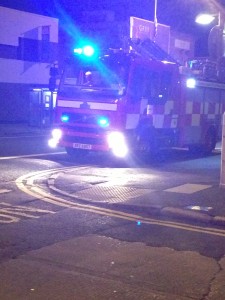 RESIDENTS living in a dozen houses have been evacuated because of a large fire in Dunmurry.
It is believed the blaze started around 4 am this morning, Monday, June 15 at an oil tank in Sunnyhill Park, and spread to adjoining houses.
The NI Fire and Rescue Service said a large amount of damage has been caused to three houses.
The roofs on two of the homes have collapsed and are said to have been completely destroyed.
No-one has been injured during the blaze and it is not clear yet if the fire was accidental.
NIFRS says it has deployed 60 firefighters from stations across Belfast and eight appliances to deal with the fire.