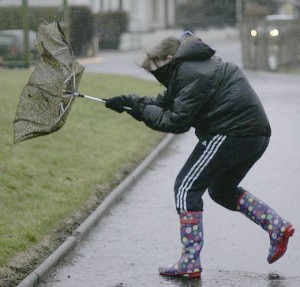 THE Met Office has issued a 'yellow warning' for high winds across Northern Ireland on the first day of summer.
Weather forecasters say the warning starts from 2 pm this afternoon and stays in force until 6 pm on Tuesday.
They are warning of winds gusting to around 50 mph in many areas with coastal areas battered with 65mph winds.
Heavy rain is also expected.
A Met Office spokesman added: "Given the unseasonable nature of the winds, the public should be aware of the potential for disruption to transport and outdoor activities.
"Damage to some trees seems likely, given that they are in full leaf
"Monday and Tuesday will be cool and often wet and windy.
"Wednesday is the transition day from the unsettled to the better weather.
"Friday into the weekend will see a much bigger increase with strong sunshine.
"Certainly is it good weather for getting out and about.
"May so far has been cool and the temperatures below average, so it is quite a contrast – a big change in the coming week."