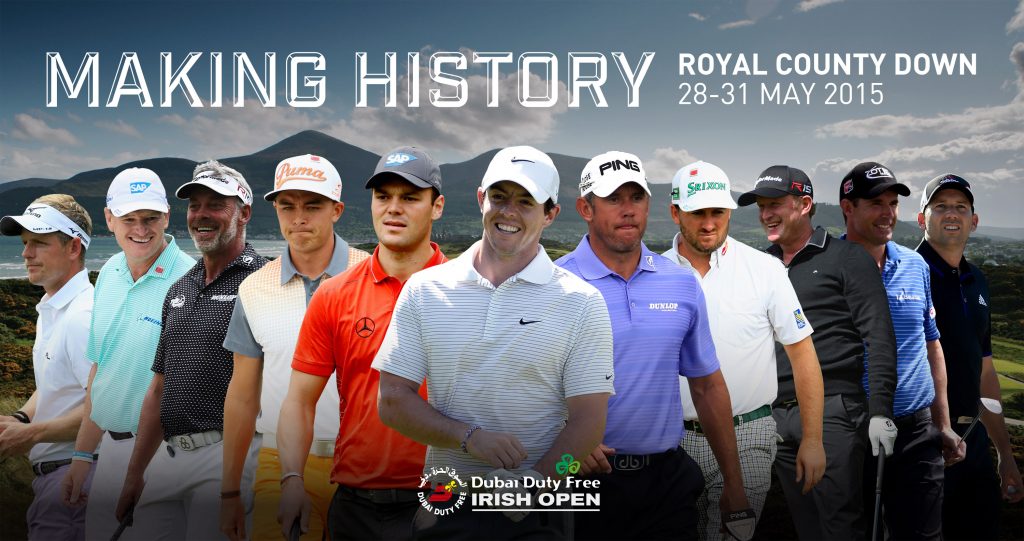 THE European Tour has announced that this year's Dubai Duty Free Irish Open hosted by the Rory Foundation at Royal County Down on May 28-31 has now completely sold out.
Golf fans have been urged NOT to turn up at the gate without a ticket now that this year's tournament has replicated the success of 2012, when Royal Portrush became the first European Tour event to sell out in advance.
One big difference this year, however, is the number of spectators that the event has attracted from outside Northern Ireland.
Whilst more than 90 per cent of spectators at Royal Portrush were residents of Northern Ireland, one third of ticket sales for this year's Irish Open have been to 'out of state' visitors.
A breakdown of sales figures has revealed that 28 per cent of spectators will make the trip north from the Republic of Ireland, with 4 per cent from GB and 1 per cent from the rest of the world, leaving 67 per cent of spectators from Northern Ireland.
News that the event, which tees off tomorrow morning (Thursday), has sold out will not come as a surprise to many, with world number one Rory McIlroy having used his own personal influence to attract a star-studded international field that includes many of the world's best golfers including McIlroy, Garcia, Fowler, Ernie Els, Lee Westwood, Graeme McDowell, Luke Donald, Martin Kaymer, Darren Clarke, Miguel Angel Jimenez, Padraig Harrington, Jamie Donaldson, Shane Lowry, George Coetzee, Paul Lawrie, and many many more.
"The success of Royal Portrush in 2012 was always going to be a hard act to follow but we are delighted to report that this year's Dubai Duty Free Irish Open, hosted by the Rory Foundation, has now completely sold out," said Antonia Beggs, the European Tour's Championship Director for the Irish Open.
"This year's event has surpassed all of our initial expectations and much of it is down to the support of one man in particular… and that is the World number one Rory McIlroy.  The star-studded field that Rory has managed to attract to Royal County Down and the personal drive and commitment that he has displayed to make this tournament the best that it can be has really been beyond amazing," she added.
 "We cannot stress enough that, whilst we welcome visitors to Newcastle to enjoy the festivities that have been put in place around the event, it is very important that people don't turn up at the gate without a ticket, as they won't get in and they will only cause unnecessary delay and congestion at the entrance point," concluded Antonia.
Kathryn Thomson, Chief Operating Officer for Tourism Northern Ireland welcomed the news that 'out of state' ticket sales have increased significantly.
"We are delighted that once again, the Irish Open has been a complete sell-out in Northern Ireland," said Kathryn.
"From the outset, we have promoted this year's event as 'The Unmissable Irish Open' and golf fans from all over Ireland and further afield have obviously agreed with us.
"What is particularly pleasing is that 33 per cent of ticket sales for this year's tournament have been to out of state visitors, which has surpassed all of our initial targets and which will further boost the economic impact of the event in Northern Ireland, and particularly in the County Down area.
"Not only that, the profile of Northern Ireland as a premium golfing and tourism destination has once again been raised on a local, national and international level," added Ms Thomson.   
Dubai Duty Free's Executive Vice Chairman Colm McLoughlin said:  "This year's Dubai Duty Free Irish Open is set to be one of the best, if not the best, ever and we are delighted to be the title sponsor. 
"It's been a pleasure to work alongside the European Tour and the Rory Foundation to help make this event as good as it can possibly be, and the public have responded accordingly with another sell-out event in Northern Ireland. 
"And what a spectacle lies ahead for all those lucky enough to get their hands on a ticket.  It really promises to be an unforgettable tournament.
"Finally, we must pay tribute to Rory McIlroy, a remarkable young man whose drive and support, in the midst of an incredibly busy schedule, has amazed us all.  It's not hard to see why Rory has reached the pinnacle of his sport when you get a chance to witness him in action first hand," concluded Mr McLoughlin.
HOW TO GET THERE…
With a sell-out 80,000 spectators now confirmed, organisers have been pulling out all the stops to ensure that visitors enjoy a safe and smooth journey and that people living in the area can go about their daily business.
Free car parking has been made available at two sites in the area – a 'Park and Walk' site in Donard Park and a 'Park and Ride' site in Northfield Park on the Castlewellan Road, with buses transferring spectators to the event every five minutes.
For information on how to get there, ticket-holders should click on www.irishopen.ie/getting-there while a full spectator guide can be downloaded at www.irishopen.ie/whats-on which also contains information on what's happening in the area during the event.
For more information on accommodation offers and golf in Northern Ireland, spectators and visitors can check out www.discovernorthernireland.com/irish-open-2015 with info on what's happening in and around the Mournes available at www.visitmournemountains.co.uk or on www.facebook.com/DownFestivals.
Finally, anyone travelling to the event and considering leaving their car at home is check outwww.translink.co.uk/irishopen for a range of hassle-free and good value travel options.