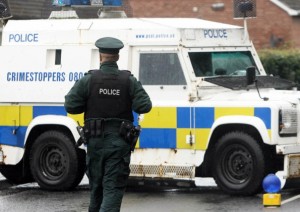 POLICE have revealed that a pipe bomb failed to explode in east Belfast last night.
The device was lobbed into the back garden of a house at Strand Walk in the Short Strand district around 10.40 pm.
A number of homes in the area were evacuated during the alert.
Army Technical Officers (ATO) were tasked while police closed off streets around the area during the alert.
After ATO made the pipe bomb device safe, residents – many who are elderly and disabled – were allowed back into their homes at 3 am.
Detective Sergeant Sean Armstrong said: "The object was examined and declared a small viable explosive device which had failed to explode.
"The object was made safe and has been taken for forensic tests to be carried out.
"This device had the capacity to cause serious injury.
"The scene was closed at around 3am with residents allowed back to their homes," added DS Armstrong.
Anyone with information about those who threw the pipe bomb device into the garden is asked to contact detectives on the 101 non-emergency number or through Crimestoppers on 0800 555 111.