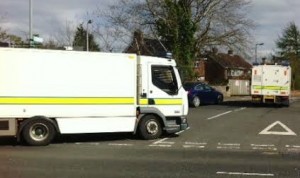 THE PSNI say the security alert in Strabane is now over and confirmed a pipe bomb thrown into a parked car was a viable device.
Army bomb disposal experts had been tasked to the scene this morning.
It followed a report that an object was thrown into a car at Innisfree Gardens.
Police have said the object was a viable pipe bomb device.
ATO carried out a controlled explosion on the device to make it safe.
The security cordon has now been lifted and evacuated residents have been allowed back into their homes.
The incident was reported to police around 8.15 am.
A total of 30 homes were evacuated.
Gina Devine, a community worker in Strabane, said the alert had caused major disruption.
"It was very disappointing that this has happened again in this community," she said.
"It's not acceptable that this device was left here and it shows total disregard for the people who live in the area and the community."
Ms Devine said it was not the first time the area has been targeted in similar attacks.
"There has been a similar type device left a few months ago as well and it seems to be in very close proximity to where this device is.
"We would ask people to deter from leaving devices in a built up area where there are elderly people a lot of whom are poorly and have carers and obviously there are a lot of children here as well near to the local crèche."
Chief Inspector Alan Hutton said there was "absolutely no justification" for leaving the device in such a residential area.
"These are very volatile devices and can cause serious harm or death.
"People were walking to school today, people going to their work, daily business and this could have caused significant harm to individuals.
"There are a number of controlled explosions taking place, the scene is still being examined and will be for a short time to come."
The senior officer added added that it was too early to know who was behind the device but that it could be the work of dissident republicans.