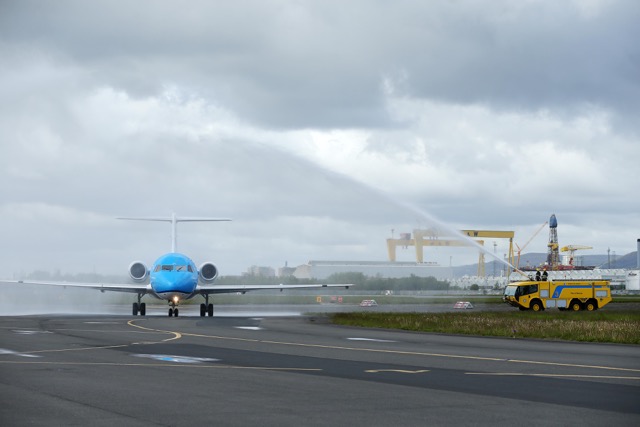 AFTER all the publicity, George Best Belfast City Airport has welcomed the arrival of the first KLM Royal Dutch Airlines flight from Amsterdam.
KLM's year round daily service to Amsterdam Schiphol Airport will provide Northern Ireland with not only direct access to the Netherlands but also to global destinations through KLM's extensive network such as Boston, Sydney and Beijing.
Enterprise, Trade and Investment Minister, Jonathan Bell, welcomed the arrival saying:
"The Netherlands is an increasingly important market for tourism here. Our natural landscapes and coastline, culture and heritage are important for Dutch visitors. KLM is a welcome addition to the growing list of air carriers now serving Northern Ireland.
"Operating direct flights from Amsterdam to George Best Belfast City Airport KLM's Amsterdam service will improve access to important business and tourism markets in Europe, North America, Asia and the Middle East.
"Air connectivity plays a crucial role in growing our economy and the access a KLM service will provide to global markets will help to ensure that Northern Ireland becomes even more accessible for those who wish to visit or do business here."
Belfast City Airport's Commercial and Marketing Director, Katy Best, said:
"KLM's decision to include Belfast City Airport as its 14th UK destination is a significant feat for Northern Ireland and both business and leisure passengers within the region who benefit from the airline's competitive fares to Amsterdam and an endless list of worldwide destinations.
"In addition to this, the new service will play a huge role in driving inward tourism to Northern Ireland. As a one terminal airport, Schiphol offers a quick and convenient transfer product making Belfast and Northern Ireland more accessible than ever for international tourists."
KLM is the second major airline to arrive at Belfast City Airport this month alone after Vueling commenced its Barcelona service on 7th May.
Katy Best continued:
"It remains a primary aim of the airport to develop our route network, particularly where improving direct access to major European cities is concerned, and we are delighted with our latest arrivals.
"Due to our location, just a few minutes' drive from Belfast city centre, and continuous private investment in our facilities which has exceed £15 million in the last number of years, Belfast City Airport remains an attractive facility to both passengers and airlines.
"We have also recently welcomed the announcement that Belfast will host the Routes Europe Conference in 2017 which will provide key decision makers and influencers with an opportunity to experience Belfast for themselves and we look forward to working with Government and playing a key role in fully capitalising on the conference."
Also welcoming the arrival Gerry Lennon, Chief Executive, Visit Belfast, said:
"Access and connectivity are vital if we are to deliver continued tourism growth and achieve the ambitious targets of doubling tourism revenue by 2020.
"As one of the world's largest airlines, KLM operates services to over 130 global destinations from its hub at Amsterdam Schiphol.
"This new service will therefore enable visitors from across the world to connect to Belfast while significantly enhancing the opportunities we can embrace in promoting city break, conference and business tourism."
KLM will use a Fokker 70 aircraft to operate the flights between Belfast and Amsterdam.