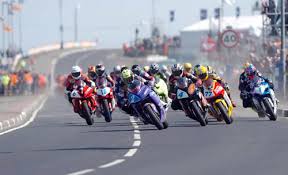 THE PSNI say its Road Policing Units across Northern Ireland will be stepping up their patrols in the lead-up to the final day of International North West 200 motorcycle races tomorrow.
The event is expected to attract around 100,000 visitors to the Coleraine, Portstewart and Portrush areas from Tuesday through to tomorrow.
Encouraging the safe use of our roads will be a priority for officers, Inspector John Millar said.
"We expect to see large number of people, many on motorcycles, travelling to the north coast.
"Sadly, a number of people have lost their lives while either travelling to or from this sporting spectacular.
"That is why road safety has got to be everyone's number one priority – it us up to every motorist to make sure they do not become another statistic.
"Most of all, do not try to emulate any of the riders taking part in the North West 200 as it is simply not sensible or safe to do so. It is very easy to get caught up in all the excitement that the practice sessions and the races bring, but all too often this can result in a serious traffic collision on open public roads.
"I would also remind other motorists that there is likely to be a considerable increase in the general level of traffic and particularly the number of motorcycles on the roads during race week. Drivers, therefore ,need to be more alert to the presence of bikes, particularly when emerging from junctions.
"Motorcyclists have a huge role to play when it comes to road safety. Use dipped headlights, day and night. Ride responsibly and don't take foolish chances."