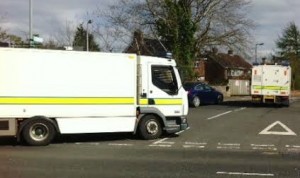 POLICE have slammed dissident republicans who left two bombs at an Army Reserve base in a built up residential area.
Two bombs partially exploded but failed to detonated outside the Caw Camp in Derry on Sunday night.
The devices were found around midday on Monday.
Residents in nearby houses in Caw Park and Rockport Park spent almost around ten hours out of their homes while the devices were made safe.
Police said the bombers had endangered lives in the built-up residential area.
They said the bombs had the "capacity to kill" and described the attack as a "reckless act".
PSNI Area Commander, Chief Inspector Tony Callaghan said: "These devices had the capacity to kill and maim and inquiries are underway into how and when they were left at this location.
"An initial examination of CCTV footage in the area would indicate that the devices partially initiated at around 11.35pm last night but failed to fully explode."
Police said the two IEDs were defused before being taken away for further examination.
Detectives are appealing for anyone with information about the attack or anyone who may have noticed suspicious activity in the area to contact them.
The security alert at Rockport Park and Caw Par is over after the day long operation and local residents – most of whom are elderly – have returned home.
The alert ended on Monday night and the bombs were taken away for further examination.
Local said the alert brought back horrific memories from 13 years ago when David Caldwell was killed when he was killed after picking up a fatal Real IRA lunchbox at the site.