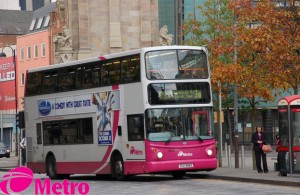 NEXT week's planned bus strike by Unite Union members has been called off.
Senior Unite official Davy McMurry says the decision to cancel the strike on Wednesday, May 6 was taken after Transport Minister Danny Kennedy agreed to put on hold plans to cut bus and rail services.
The strike would have affected the Metro and Ulsterbus services.
Mr Kennedy's DRD department is under budget pressures because of spending cuts announced by the Stormont Executive.