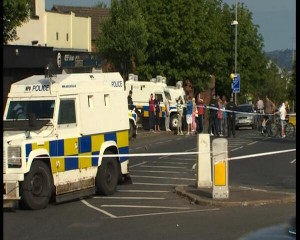 BELFAST'S to cop says dissident republicans tried to kill his officers with a massive bomb in north Belfast.
Chief Supt Nigel Grimshaw has condemned those behind a device found in Brompton Park , Ardoyne, in north Belfast.
Speaking  on Friday night, he said: "We have located a significant, viable, explosive device following a comprehensive and painstaking search operation which started last night.
"I am absolutely convinced this attack was intended to kill police officers.
"If it had exploded it would have killed or seriously injured them and innocent people going about their daily lives in this area.
"It was a reckless and shameless attack that demonstrated no regard for the people living and working in this area.
"This is a residential area, a commercial area, we have Holy Cross chapel nearby where people want to go and worship. This was designed to disrupt this community at its heart.
"My officers have put themselves in harm's way trying to find this device and keep people safe. Despite the imminent threat, they have demonstrated the same selfless commitment to protecting communities that they do each and every day.
"The people responsible for this attack have a reckless disregard for life, which was compounded by them giving incomplete information regarding the whereabouts of the device.
"I am acutely aware of the disruption that has been caused by this device and our search for it and I must pay tribute to both communities who have co-operated and worked with my officers to ensure disruption was minimal.
"It is with genuine gratitude that I say to local residents, we appreciate your patience, your understanding and most importantly your continuing support as we work to make your area safe.
"I am grateful that, at the start of this Bank Holiday weekend, we are not dealing with severe casualties as a result of this reckless attack.
"Enquiries are at an early stage but this has all the hallmarks of a dissident republican terrorist attack."