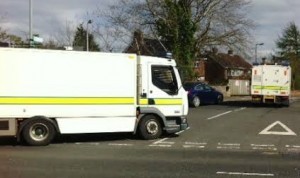 POLICE say officers have found an improvised explosive bomb in Brompton Park in north Belfast following a massive security sweep.
Tactical Support Group officers carried out a number of searches following reports of a suspicious device in the area on Friday.
Army Technical Officers remain at the scene and a number of roads remain closed.
The ATO is planning to carry out a controlled explosion on the device.
Supt Paula Hilman said: "We are grateful for the continuing patience and support of local people as we deal with this alert."
North Belfast priest Fr Gary Donegan received the warning call on Thursday night just before midnight.
"A man phoned me to say a device had been left for the police near a local bookmakers.
"The caller said the device hadn't gone off. A priest at Sacred Heart received the same phone call."
A number of families have been moved out of their homes since 9.30 am this morning.