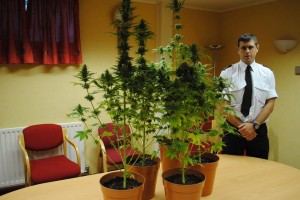 A DOPEY druggy was nabbed after a fire in his flat led cops to find his cannabis factory stored in the attic.
Police say that on Tuesday at around 10.40 am police were called to a fire in the Annadale Crescent area of South Belfast where they discovered a small cannabis factory and arrested a 45 year old male.
Sergeant Brian Mills said: "At approximately 10.40am police and the Fire Service were called to fire in the Annadale Crescent of South Belfast.
"Upon arrival they discovered a cannabis factory containing approximately 20 plants in the roofspace."
"A 45 year old male was subsequently arrested on suspicion of cultivating cannabis, possession of a class b drug and arson.
"He has since been released on bail."