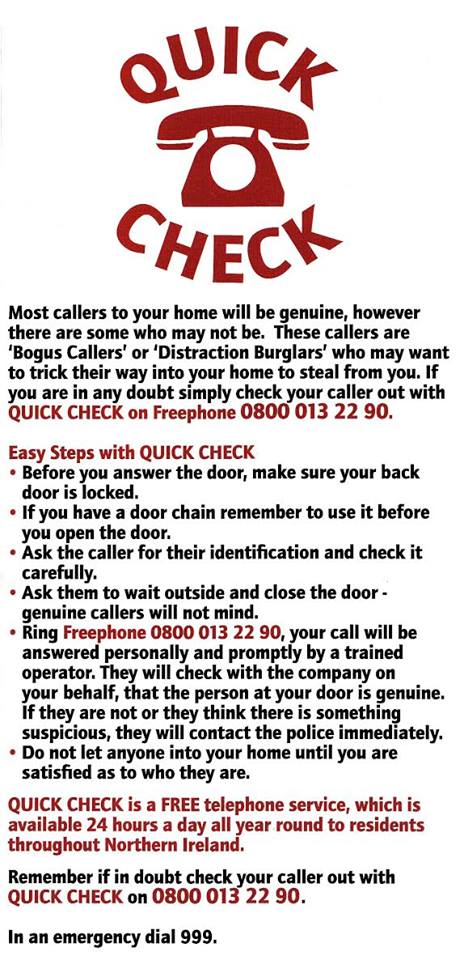 THE police say officers received several reports of a bogus caller in the Sandy Row/Village area of South Belfast over the last few days.
A male has been reported calling at a number of addresses, mostly elderly people's homes in the Sandy Row/Village area using various excuses.
He claims to selling candles or other items or that he needs money to get a bus to Dublin in order to scam people and steal their money.
The male has been described as between 30-40 years old, below average height, slim build with dark hair, bad teeth, a Northern Irish accent but with a country "twang" and wearing a dishevelled suit.
This male has been given money by unsuspecting victims.
A police spokesperson said: "We would remind the public that if they're concerned about bogus callers at their home they can use a special free phone service – Quick Check 0800 013 22 90 – to help them check if a visitor is genuine.
Quick Check personnel who answer your call are trained specifically to help determine if a caller is genuine and when contacted they will ring the company the bogus caller is claiming to represent to see if they are genuine. If there is something suspicious they will contact the police directly."
Members of the public should also bear in mind the following advice when dealing with unexpected visitors:
– Think before you open the door – use your chain and spy hole or look out of the window to see if you recognise them.
– Ask callers for proof of identity. Genuine tradesmen should carry a photographic identification card. Check this carefully, if unsure ring Quick Check.
– Beware of callers who attempt to distract you by claiming that they have seen something untoward in your rear garden or somewhere that may encourage you to leave your house – they may have an accomplice who is waiting to act upon this distraction.
– If you are not convicted of the identity of the caller, don't let them in. Ask the caller to come back later and arrange for a friend, relative or neighbour to be present on their return.