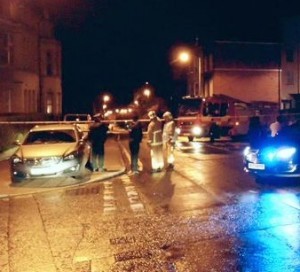 POLICE have said officers were given an "inadequate" warning to evacuate an area before a bomb exploded in last night.
The bomb detonated just before 11 pm on Monday evening.
Army Technical Officers are examining a second device at the scene of the explosion at the offices of the Probation Service in Crawford Square, Derry.
As the examination continues, police have moved a number of residents from their homes as a precaution.
Supt Mark McEwan said: "Basically a warning was given that was totally inadequate in terms of allowing the police to actually take any positive action and the device activated before police were able to start the evacuation.
"We have to condemn outright the very fact that somebody has put a bomb in a highly residential area here.
"And that has been placed here in order to intimidate, cause damage and potentially cause serious injury or death."
Locals have branded those behind last night's attack as "clowns".
Residents of nearby Conar's Court said they were left terrified by the terror attack.
"Those responsible are imbeciles and clowns," said one young mother.
"The blast woke my child and she was up all night."
The PSNI said a number of people were evacuated from their homes.
The security operation in the area is continuing – with traffic disruption as a result.
Police closed off the Northland Road and Academy Road last night after the blast with fire crews and ambulances on stand-by at the scene.