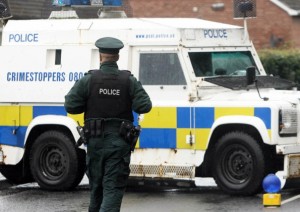 DETECTIVES are investigating after republican youths hurled at least three petrol bombs over a north Belfast interface at the weekend.
Police say no-one was injured in the attack at Hallidays Road, in the loyalist Tiger's Bay district an hour before midnight on Sunday.
The area stretches along the peace line between the nationalist New Lodge and Tiger's Bay.
One device landed in a woman's garden among her children's toys, he said.
A local minster said one of the petrol bombs caused some scorch damage to the back on the woman's house.
"It's been a long time since there have been petrol bombs thrown in that area," said Pastor Brian Madden said.
"There are two kids' bikes sitting beside where the petrol bomb landed. It could have hit a child if it had happened any earlier in the evening.
"These are young families living at that peace gate, they are no threat to anyone. It is a very worrying development. We don't want any trouble, especially in the run-up to the marching season.
"We are asking people to take a step back."
Police said the petrol bombs had been taken away for further examination.
Detectives in north Belfast have appealed to anyone with information about the petrol bombs to contact them on the 101 non-emergency number on through Crimestoppers on 0800 555 111.