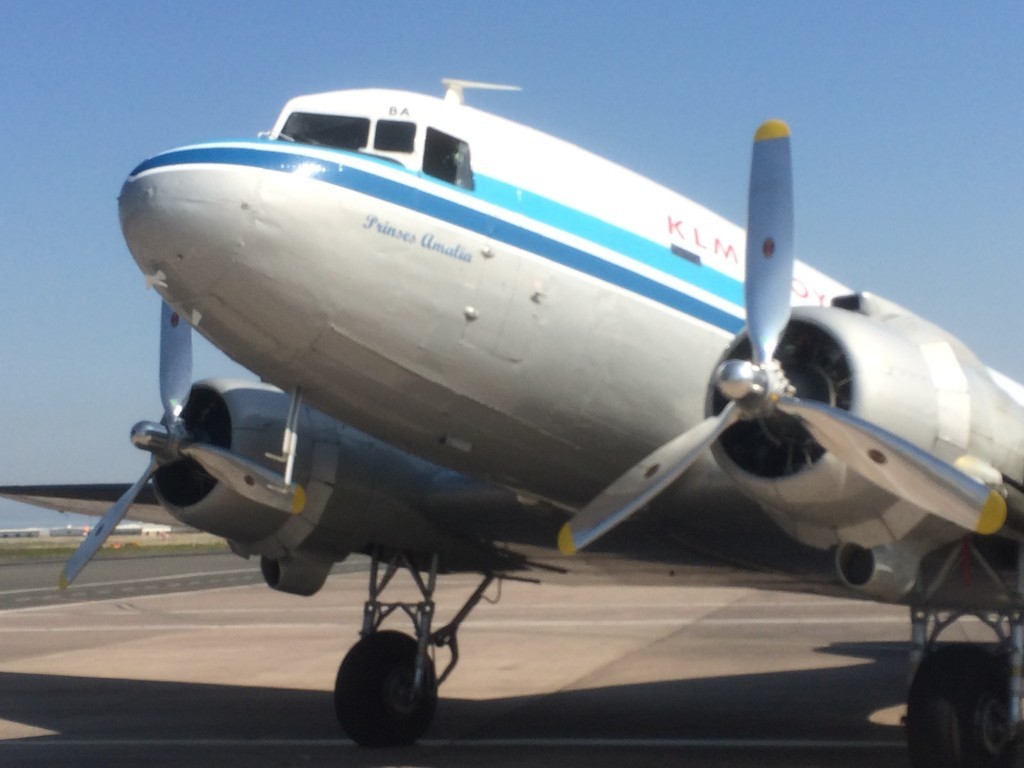 BY TIM HEDGLEY, GROUP TRAVEL EDITOR
TO celebrate KLM re launch of the Belfast to Amsterdam route, KLM very kindly took a number of journalists up in their beautiful Dakota DC3 for a pleasure flight over Belfast.
George Best Belfast City Airport is the only airport in the UK or Ireland included in expansion plans announced by KLM Royal Dutch Airlines who will commence a daily service to Amsterdam Schiphol Airport from May 2015 providing greater access to global destinations through KLM's extensive network.
Connectivity from Northern Ireland to South America, the Middle East and the Far East will be further strengthened through KLM's membership of the SkyTeam Alliance along with international airlines such as Air France, Alitalia, China Southern Airlines, Aeroflot, Korean Air, Middle East Airlines, Czech Airlines and Saudia.
So when you are planning a flight, London is not always the best option for you. It does good to think Schiphol.
Belfast City Airport's Commercial and Marketing Director, Katy Best, said:
"Attracting an airline such as KLM to Northern Ireland, is a major win for the airport, tourism within the region and local businesses who will benefit from KLM's worldwide network.
"KLM places significant emphasis on customer service and offers a product that is flexible, comfortable and desirable for each and every passenger making the airline a perfect fit for Belfast City Airport where continuously enhancing the passenger experience remains a priority."
With imports of goods from the Netherlands increasing in recent years and the country being one of the largest export markets in the EU for Northern Ireland manufacturers, this route ensures daily connectivity with major export and business markets identified by Invest Northern Ireland.
She added: "Schiphol is the linchpin of the KLM network, and as one of the busiest airports in Europe serving over 300 destinations, it is an attractive superhub with quick and easy transfer facilities for passengers on popular routes such as Los Angeles, Hong Kong, Singapore, Mexico, Moscow, Johannesburg and Bangkok.
"KLM's connectivity to many source markets will be particularly appealing to Northern Ireland for both business opportunities and tourism development.
"It is our aim to attract new airlines to Northern Ireland and to further develop our domestic and European route network through working with the government. KLM is the second big European airline to announce operations from Belfast City Airport in a matter of months after Vueling's decision to commence a service to Barcelona from May 2015, and I am delighted that both airlines have chosen to include Belfast City in their UK expansion plans." Airport and other tourism partners, through co-operative marketing, to drive demand for this new flight, as well working with other carriers and partners to promote and help maintain vital routes and services to Northern Ireland." Seats on the Belfast City – Schiphol route are on sale at www. klm.com
For more information about Belfast City Airport and its route network, please visitwww.belfastcityairport.com
What a flight I had.
On December the 17th 1903 Orville Wright
piloted the first powered airplane, just a few feet (20 feet), above a beach in North Carolina. Today the 23 April 2015, I relived the golden days of aviation in a plane built just 41 years later.
So effectively I traveled in the same style and luxury as passengers in the pioneering age of aviation. KLM led the way in modern European aviation, offering customers comfort on board and reliable flights in Europe, the Far East and beyond.
My flight was on the Royal KLM Dakota PH-PBA, liveried in the style of the Fifties, she was built in 1944.
She was in service with the 8th Air Force during the Second World War and was flown in Operation Market Garden.
After the war the aircraft was acquired by his Royal Highness Prince Bernhard, Prince of the Netherlands and later became the first official aircraft of the Dutch government. After retirement in 1975 the aircraft became part of the collection of the Aviodrome museum.
It was put back in service in 1998 and it has been flying ever since. In 2010 she received her current historic KLM colour scheme and was christened 'Princes Amalia', after Prince Bernhard's great grandchild, the second in line of succession to the Dutch throne.
Facts and figures
• DC3 Dakota PH-PBA Princes Amalia
• Cabin configuration 18 Royal class seats (alternatively DDA's other Dakota seats 25 passengers)
• Operation within Europe
• Cruising speed 130 knots
• Cruising altitude between 1500-10,000 ft (500meter-3500m)