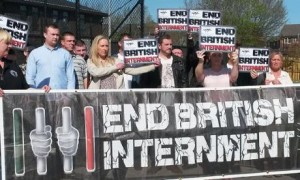 PROTESTORS are gathering this evening at Antrim Road police station in north Belfast after Dee Fennell was remanded in custody today.
The 33-year-old was charged with encouraging support for a terrorist organisation following his Easter Sunday speech in Lurgan, north Armagh.
He faced Craigavon Magistrates' Court for a first remand hearing.
The north Belfast man was remanded to the dissident republican wings at Roe House in Maghaberry Prison until next month.
A message was sent out on Facebook page of the Greater Ardoyen Residents Collective (GARC) calling for people to join the 7 pm protest this evening.