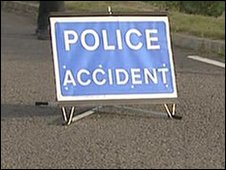 A seven-year-old boy is in a critical condition in hospital after a crash involving two cars.
The accident happened in Islandmagee, Co Antrim at the weekend.
Police say one of the car's drivers is also in hospital in a serious condition.
The crash happened on Lough Road at 2.4 pm on Saturday afternoon.
The injured boy is in the intensive care unit at the Royal Victoria Hospital.