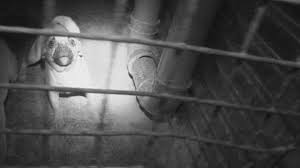 THE DUP'S Jeffrey Donaldson has called for a 'barbaric' puppy farm to be closed immediately and prosecutions mounted against the owners.
Mr Donaldson made the call after watching last night's BBC Scotland investigation into the trade of puppies across the Irish Sea.
Undercover investigators tracked Paul O'Neill from Glasgow to Co Louth on his weekly trip to buy puppies and then sell them off over the internet with the help of his wife Bernadette.
And a Co Fermanagh puppy farm was infilitrated at the dead of night where scores of bitches were kept in kennels with a gravity feed system in place.
Weeks old puppies were found on the farm in the back of a trailer.
Said Mr Donaldson today: "I have now watched the programme. It is appalling.
"I will be raising this urgently with the Animal Welfare unit at the Department in Stormont.
"Prosecutions are required and this dreadful so-called puppy farm closed down immediately.
"I have also supported motions in Parliament to toughen the law on such activities and to strengthen animal welfare protection."