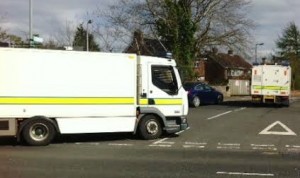 ARMY Technical Officers have made safe a viable pipe bomb device following a security alert in west Belfast.
The alarm was raised this morning when a man found a pipe bomb outside his home on the Lagmore estate, Dunmurry.
It is understood he hurled the device from his front door step across the road into Teeling Avenue.
A major security operation was launched and police called in the ATO after a search of the area located the device.
While the ATO made safe the device, police closed the road to traffic in both directions.
A number of residents in the area were evacuated from their homes and a local community centre was opened for them to stay in while the security alert was ongoing.
All roads in the area have now been re-opened.
The pipe bomb has been taken away for forensic examination.
Police are trying to establish a motive for the leaving of the viable device outside the man's home.