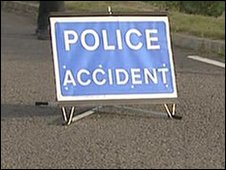 An 11-year-old boy injured in a crash in Enniskillen, Co Fermanagh, on Wednesday has died in hospital.
The boy was the passenger in a car which was in collision with a van on Lough Shore Road at around 1 pm.
The 23-year-old driver of the car and the 47-year-old driver of the van were also taken to hospital.
Their injuries were believed to be serious, but not life-threatening.
Police have appealed for witnesses to the crash to contact them.