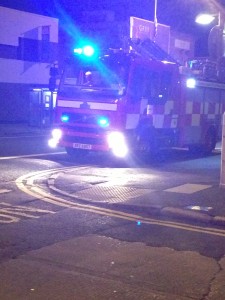 AN investigation has been launched after a man, woman and child were left fighting for their lives in hospital following a house fire last night in north Belfast.
They were rescued from the upstairs of the property at Jamaica Street in the Ardoyne area just before midnight.
NIFRS say 20 firefighters attended the blaze which licked its way through the house.
The cause of fire is still under investigation.
William Johnston from the fire service said the fire was "well developed" on the ground floor when they arrived.
"There were lots of neighbours in and around the area who were alerting the crews to some personnel trapped within the house," he said.
"We removed the casualties from the premises and the fire crews worked with the paramedics to look after them.
"They were unconscious at the time and were taken to the Royal Victoria Hospital by the paramedics."
The trio are now in a critical condition in the RVH's intensive care unit.
NIFRS and PSNI crime scene investigators are currently examining the scene.